Data has become the key to strategic management to make the right decision at the right time. Here is a 3-step guide to implementing your digital transformation.
This has always been an issue for companies. The concept of Business intelligence appeared at the end of the 1950s carried by a computer scientist named Hans Peter Luhn, at IBM. He is probably the inventor of the first algorithms that used a computer to summarize documents and mine numbers. The underlying idea is to use accounting, financial and customer data to organize decision-making.
The mid-1970s saw the first systems for planning material requirements to help industrial companies organize their production. ERP (Enterprise Resource Planning) was born.
As technology advances, the Internet expands and the amount of available data increases exponentially. The tools adapt and specialize.
Decision-making intelligence, based on a detailed analysis of data, is organized in a simple way by algorithms. Thus it becomes possible to make complex decisions while improving productivity.
The decision-maker, using his decision-making dashboards, can thus do without database experts and extract the data he needs himself. Even better, all of this data can be accessed by all stakeholders, making it possible, thanks to these common indicators, to bring out synergies within the various units of the company, and even among its partners.
PREREQUISITES
You need to create the foundations for your transformation. This is a human adventure and responds to 3 major challenges.
Stake 1- Transform the mindset of your teams: be agile in order to be able to seize the opportunities that digital will bring.
Stake 2-Establish a strategic line aimed at deciding your needs such as conquering new markets, implementing new services or simply conquering new talents.
Stake 3-Move the lines of your organization to leave the right to dare to your teams.
The transformation will begin with a change in the mindset of the teams, such as Top Management.
Once the mindset has been integrated, you may want to create a 4.0 company in which digital twins, artificial intelligence and cybersecurity will be the pillars.
The 3 steps to generate value in your digital journey, or in the construction of your Digital Factory
The path to unlocking value creation generally includes three main steps:
Connection and digitization of production following concrete objectives. This step allows you to extend the real-time visibility of equipment performance to multiple devices. With a fully connected, digital-centric business, you can start collecting more data and make it actionable for decision-making.

 Optimization of operations and market penetration. You can now use your data to differentiate yourself, by exploiting relevant information in real time, for example to reduce delivery times and increase yield. It's about gaining visibility into factory operations, increasing productivity, fostering flexibility, speeding time to market and meeting customer needs.

Innovation and large-scale development of new economic models. Take the next step with machine learning and AI, offering value-added services and differentiating pricing. Example: using cutting-edge technology to optimize maintenance programs and anticipate downtime.
And above all keep in mind that it is the human who remains at the heart of this transformation, digital must remain at its service;
Technology tools like digital twins, artificial intelligence (AI), machine learning, predictive maintenance and cybersecurity are not just buzzwords. These concepts and technologies carry with them the possibility of generating real and new value for manufacturers, such as cost reduction, improvement of productivity, limitation of losses, optimization of maintenance processes, new economic models and improvement of customer service: the results are multifaceted.
What questions should you ask yourself to implement your digital transformation?
Why move my business towards a digital transformation?
1- for real-time market presence, your culture and strategy will need to be challenged before you commit to restructuring your systems, or even redesigning your website. See the establishment of a customer culture, or an adaptive corporate culture.
2- To set up a digital workplace or digital factory so that my employees and decision-makers can be connected at all times and supervise production remotely. See Enterprise X.0 Basics.
3- to improve my ability to introduce new products. See how to integrate Agile values ​​to implement a time-to-market adaptor, or how to establish the foundations of an organic business.
Which deals with the establishment throughout the value chain, a customer-centric corporate culture
Which deals with the implementation of an autonomous production based on an idea = an experienced product
In which we tell how companies integrate digital technology into their production system on a daily basis
The diagram below shows the evolution of the web through the evolution of business needs.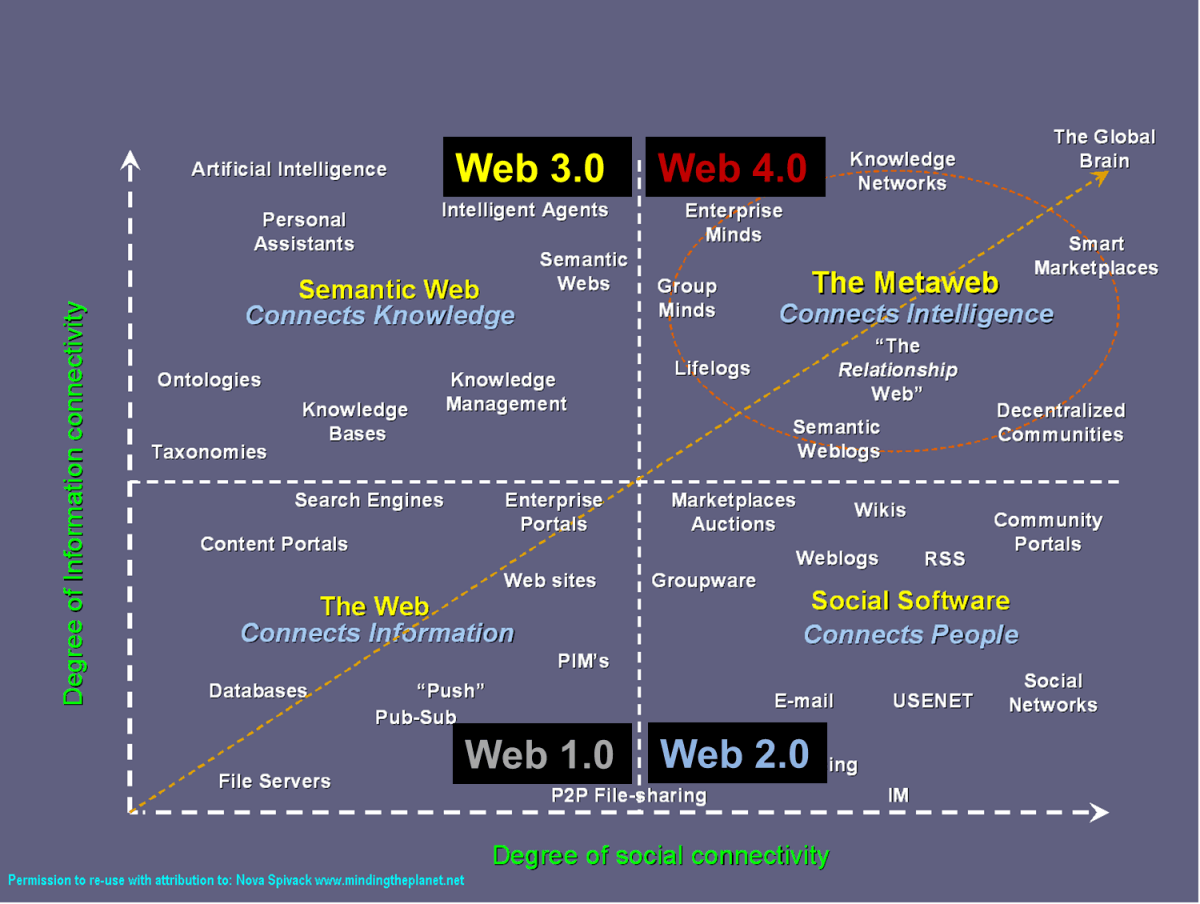 And above all keep in mind that it is the human being who remains at the heart of this transformation, digital must remain at its service.
To go further, read Internet, first step towards the quantum computer. Understanding what's going on is an opportunity to make conscious choices.
Author: Dominique popiolek-Ollé, Transmutation leader, Agile Executive Coach, Founder of In Imago, management consulting and disruptive transformation.