Facilitation in Collective Intelligence and gamification are the levers of game coaching, and a guarantee of success for digital transformation projects, or organizational transformation.
Impact storming game is a free association between Impact mapping by Tom Poppendieck and games storming by Luke Hoffman. The objective of this association is to bring out a vision while facilitating the achievements of inter-department teams.
It is a proposal to mix impactful actions in the creation of products by facilitating the crossing of the achievements of inter-department teams in the service of the company's ambition.
Impact storming game makes an operational contribution to the achievement of the company's strategy. It is a link between strategic management and the actors of the production chain. To test!
Impact Storming Game: what for?
The goal is to invite the team:
– to project oneself into a metaphorical construction of the future by telling a story
– à générer un ensemble d'actions impactantes court terme, inscrite dans une ambition commune (moyen terme).
– to generate a set of short-term impacting actions, part of a common ambition (medium term).
Impactful actions are products which, assembled together, give reality to the vision of the future.
Understand the concepts of product and metaphors (story map)
The underlying idea is to look at 2 years, and to stage the successes obtained by the products and successive actions. This allows you to set your ambition, establish the intention of the teams and get started.
The "staged" narration invites you to think big and to segment your approach. It also allows you to adjust to what my product is for, what needs it meets and how I measure the response I provide, and how does it fit into the business strategy.
The staging, through the production of a metaphor or a customer life story, makes it possible to get out of linear action: sequence of tasks and to build a strategic backlog that is coherent in relation to the company's vision.
Impact Storming Game: how to implement it?
Implementation is one of the elements experienced in Building a New World.
It is built in 2 workshops of approximately 1h30. The first consists in establishing your vision of the Future, the second workshop in identifying the various product actions and actors concerned as shown in the diagram below.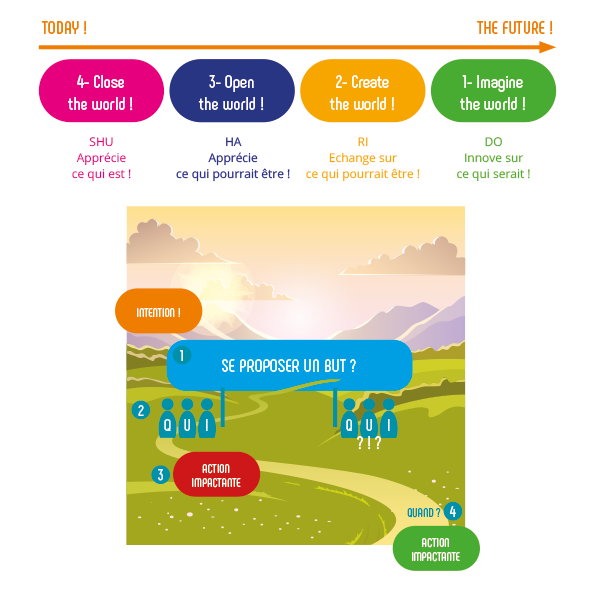 The product approach and the mapping of actions is very well illustrated by Pablo Pernot on his blog.
This approach is also useful in building your customer culture.