THE LEAN STARTUP by Eric Ries is a reflection on how a start-up proceeds to generate business, published in 2011 and a best seller since. It is a tribute, a feedback, that I present to you in this article to reconnect with this mobilizing and decompartmentalizing tool.
What is a Lean startup?
Lean Startup is a continuous approach to initiate and manage its development in a complex and uncertain environment.
Lean Startup is a way of doing business, based on iterations: launch a minimum offer, test the market, adjust your product and start over until you find the best idea to sell.
It makes it possible to identify the various factors of success and to compare the cost of the project, to facilitate decision-making.
In my experience of transformation in large Groups, it is also:
an invitation for our managers to challenge themselves by introducing, as in a start-up, an iterative mode of production and pivot making it possible to adjust to the needs of the market and to take into account the specificities of each customer segment.
a structured approach, in which the teams can take their autonomy without jeopardizing the general organization, at least initially.
an effective governance tool to choose to support or pivot on the company's Agile projects.
Eric Ries inspires and invites you to simplify your business plan in a sustainable way. He makes a way to reinvent the customer at the heart of our business. You will find on the web many articles, tools, videos on this topic to show you how to use this tool. Our favorite for this theme is Alexander Cowan's venture design process for his illustration of the product creation process, from idea to market.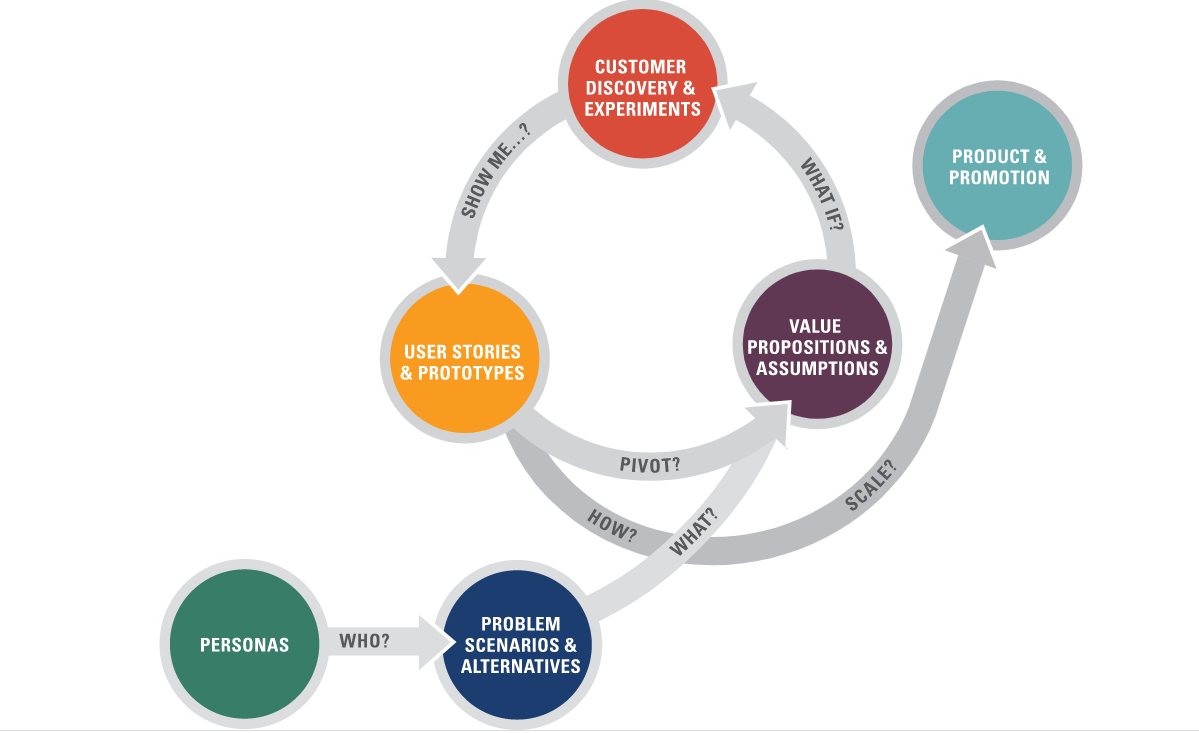 Lean Startup Canvas
The first and best-known model allows you to structure your product presentation and identify the company's response to customer needs. It invites you to identify the distribution channels and your production costs.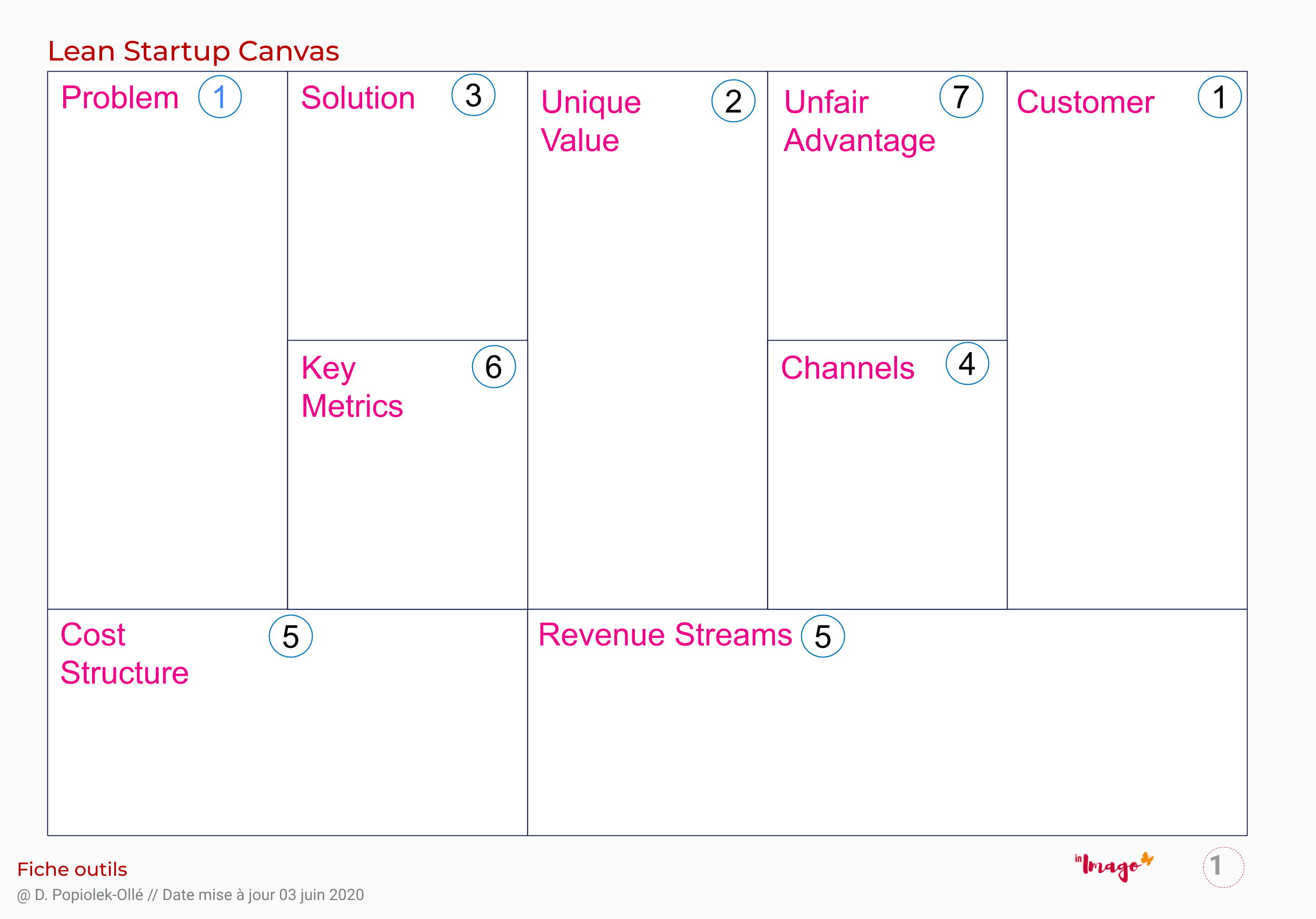 Lean Startup pivot
Then, the second diagram allows you to compare the idea, the product, to its market in order to technically validate the contributions of our solutions before putting them on the market.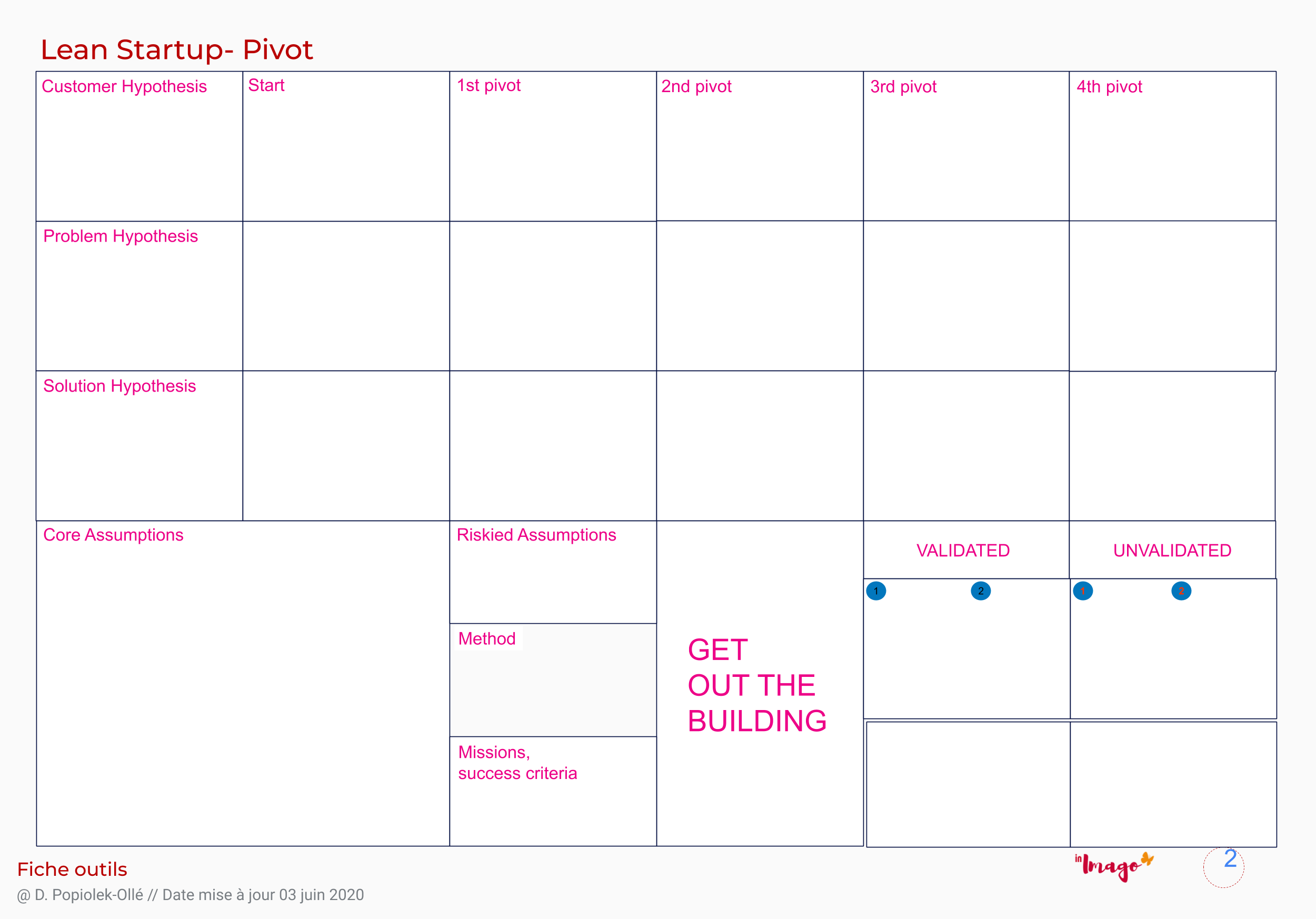 The representation of the Lean Startup pivot is rarely available online.
And yet, this is the differentiating and innovative character of Eric Ries, inviting us to test an idea and challenge its constraints through a "get out the building". It is this pivot that introduces the concept of user testing, customer testing, into the journeys of companies wishing to equip themselves with a customer-centric culture.
The successors of Lean Startup
This book will be followed in 2015 by the Business Model Canvas by Alex Ostelwarlder and Yves Pigneur, and will provide a technique for internally validating product scenarios and will introduce the notion of persona into Agile models. Thus the Business Canvas Model will be the projection through these personas- illustration of the customer and his needs and the scenarios that the company could deploy to reach its market or its ideal product.
To my knowledge, it will also be the first Agile models of tools dedicated to strategic management that will appear on dedicated platforms such as Strategyzer
Ash Maurya with Running Lean will integrate Lean Startup into his model to provide a usage code and will be the first to model Eric Ries' book by presenting a representation of the Lean Startup Canvas. He will impose this representation as a strategic management tool. Running Lean will in turn become a best seller.
Author : Dominique Popiolek-Ollé, Transmutation leader, Agile Executive Coach, Founder of In Imago management consulting and disruptive transformation